We certify hotels around the world.
We are an independent organization with expertise in the security of properties and traveling personnel, leveraging our worldwide network of advisors to certify the security level of hotel facilities.
We assess your structure's risks
If you own a hotel, you probably know that today it is important that customers feel safe and secure throughout their entire visit. Only experienced security & hospitality professionals can certify this.
Some threats to the facility and customers
SecurityHotels is an independent organization specializing in security & hospitality that, leveraging its worldwide network of advisors, offers an objective risk assessment service for hotel facilities.
SecurityHotels certifies properties that want to improve their security.
Security in hotels involves taking various measures to protect guests and their property, staff and the facility itself. Common security measures in hotels include surveillance cameras, key access control, security personnel and emergency response plans. There are also a number of additional security services that facilities should offer their guests, such as having a safe in the hotel to store valuables and/or documents.
The COVID-19 pandemic has taught us that if places remain safe, our business will also not be affected (not only with respect to health and hygiene measures, but also with respect to all aspects of security related to cyber and new internal and external terrorist threats).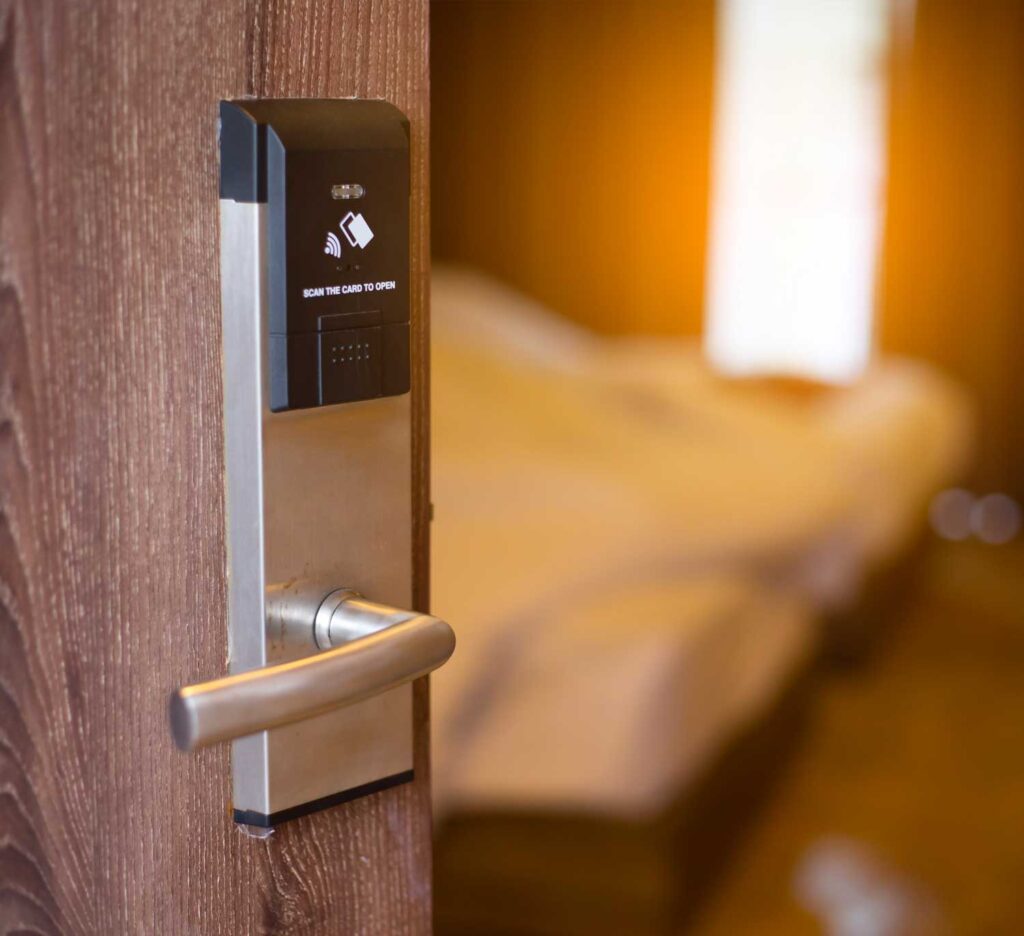 SecurityHotels therefore performs a dual service in this regard: on the one hand, it collaborates with facilities so that they can guarantee high security standards, and on the other hand, it establishes guidelines, and allows facilities to become certified.
Certification, which involves an on-site visit by one of our experts, is a guarantee to the client that the hotel has all the protection standards in place to enable a safe visit.
Why get certified:
RELIABILITY: Through Security Hotel you can share with your customers the security standards applied in your facilities making your business resilient and secure.
NETWORK: The list of our certified facilities is periodically updated and sent to major tour operators and TM (TRAVEL MANAGER) companies.
Companies and Travel Managers
Ensuring your staff on assignment abroad have a certified facility reduces the probability of accidents and ensures compliance with international best practices in accordance with ISO 31030 and Duty of Care.
Through our service you can access a network of certified facilities, which you can use to safely plan your staff's travel.
Are You a Private Individual?
If you are a private individual with the need to find a safe facility in which to stay, you can view hotels near your destination in our network, analyze their characteristics and the type of certification they have.
If you are not yet familiar with our service, you can also contact us to get a dedicated discount code for the accommodations you have chosen.
Se non conosci ancora il nostro servizio, puoi anche contattarci per ottenere un codice sconto dedicato per le strutture che hai scelto.
Frequently Asked Questions
If you have more questions or want more information about our service, please contact us at info@securityhotels.com
Who will benefit from
SecurityHotels

certification
The service has great benefits for the entire hotel establishment: owners can count on their establishment being enrolled within a robust network of secure hotels, and this will allow them to expand their clientele. Guests and customers will know, through certification, that they have chosen a secure and welcoming place. Even travel managers, who are in charge of planning corporate travel, can lean on the SecurityHotels network to view the certified facilities closest to their destination locations.
So how does the certification process work?
Contact us for more information or to get a customized quote for your facility.
We will be glad to support you. Fill out the form below or send us an email, and we will contact you as soon as possible.